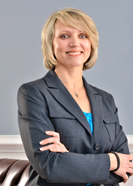 Alexandra Byars
Controller
Alexandra "Sasha" Byars serves Advanced Retirement Planning in a managerial sense, overseeing internal budgeting and accounting. A former small business owner, Sasha has a degree in Accounting and brings experience in the supervision and administration of successful establishments.
Sasha has a wide range of interests and enjoys being involved in the daily activities of the ARP team.
She is married to Brian Byars and currently lives in McDonough, Ga., with her two stepchildren. Her son, Vitaly, is currently serving in the U.S. Marine Corps.
Contact us for a complimentary appointment today.