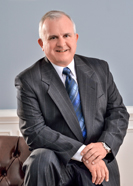 Russ Strickland has extensive experience with elderly clients: his family has proudly owned and operated successful skilled-care facilities in Georgia for over 52 years. He spent 25 years as operator and administrator at these facilities before working with Advanced Retirement Planning as a financial advisor.
His expertise includes long-term care planning and helping individuals with fulfillment of Medicaid requirements. Russ has a personal connection with the families he is able to assist and is proud to use his experience in the assisted living community to further the efforts of those planning for elderly care. His handcrafted, strategic plans also guide clients through the process of accessing benefits from the Veterans' Administration.
Clients recognize the amount of time and experience Russ brings to any situation involving healthcare administration. Russ has a true understanding of the level of respect and care owed to those who need additional care.
Married with two daughters, Russ enjoys riding motorcycles and skiing in his free time. He and his family are actively involved in their local church.
Contact us for a complimentary appointment today.