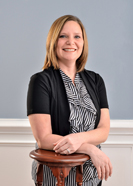 Kingsley Allen
Office Manager
Kingsley Allen is a valued member of the Advanced Retirement Planning team. As Office Manager, she processes new client information and maintains files, ensuring all data is current and correct.
Advisors rely on Kingsley for scheduling appointments with clients and facilitating client functions. She handles important documentation required by the Veterans Administration and other organizations relating to client needs.
Married with a son and two stepchildren, Kingsley lives in Covington and is currently expecting a daughter. When she is not assisting the ARP staff, she can be found reading or at the baseball fields with her son.
Contact us for a complimentary appointment today.