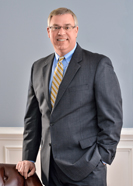 Ed Reel, an advisor with Advanced Retirement Planning, LLC, handles financial planning for clients with small businesses. Managing Director of Advanced Business Strategies, he handles client engagements at the firm including sales, mergers, acquisitions and financial planning. Reel is credited with the development of the cost-effective "For Sale By Owner" solution which enables small business and franchise owners to sell their businesses without broker commissions, contracts, or risk.
He has 25 years of experience working with Fortune 100 and privately-held companies such as Mobil Oil Corp., PricewaterhouseCoopers, TRW and RBG Advisors. Trusted with handling mergers and acquisitions, he is familiar with many aspects of commercial business.
Reel's skills make him a valued member of the ARP team; he has extensive working knowledge in manufacturing, transportation, distribution, business services, building products/contracting services, engineering, e-commerce, material handling, information technology and application software.
Requested as a guest speaker at numerous universities, Reel often serves as an expert panelist at small business conferences and global events. He is frequently quoted in business publications and has written numerous educational and technical articles published in leading industry magazines. Reel has authored and co-authored many white papers used in the business sector.
A Georgia Licensed Real Estate Broker and insurance agent, he holds a Bachelor of Science in Mechanical Engineering from Louisiana State University and a Master's degree in Business Administration (MBA) from the University of Tennessee.
Reel and his wife, Terri, live in Cumming, Ga. and enjoy traveling and spending time with family. He is a dedicated member of the Board of Directors of Rewarding Minds, Inc., a non-profit organization gifting technology equipment, education and training to high school students to support their growth and development.
Contact us for a complimentary appointment today.