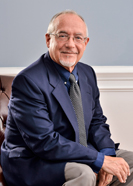 David Trippe
J.D., Masters in Taxation
Strategic Partner
David Trippe is an attorney with 35 years of experience, working with clients as an esteemed consultant to provide in-depth perspective to any situation. As a Strategic Partner with Advanced Retirement Planning, he prepares official documents for many transactions and offers invaluable legal assistance.
For 25 consecutive years, David has received the AV Preeminent rating from Martindale-Hubbell. This is the top rating given to attorneys by the service, and is based on performance in five key areas: knowledge, analytical capability, judgment, communication and overall legal experience.
A 1967 graduate of Northwestern University, David earned his J.D and a Masters in Taxation (LLM) from Emory University School of Law. Well-versed in the areas of tax and bankruptcy law, he sees many clients with issues of asset protection, seeking to preserve wealth for future generations.
Elder care is an essential focus in retirement planning today, and David understands the legal transactions that must take place to ensure that assets are effectively managed to maximize longevity. The number of clients with responsibilities towards aging parents is increasing, bringing a new host of legal concerns. Facing retirement is a difficult experience, one that requires careful planning for issues that were not a concern in previous generations.
David enjoys meeting new people through his partnership with ARP and the challenge of finding solutions to various financial problems. He currently resides in the mountains of northeast Georgia and is a self-proclaimed fitness fanatic. Fully engaged in managing transactions and implementing comprehensive plans, he is an attorney who cares deeply about his clients' fiscal health.
Contact us for a complimentary appointment today.