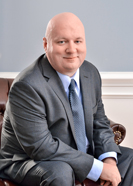 As Founder of Advanced Retirement Planning, LLC, Brian Byars brings over 18 years of experience in financial and estate planning services, insurance and asset protection to his clients. Brian demonstrates a work ethic built on service and value. He excels in crafting personalized financial plans to prosper his clients, helping them achieve their personal and financial goals while maintaining their trust and confidence.
Growing up in Rome, Ga., Brian began his professional career as a licensed insurance agent in 1994. During the early years of his career, he realized he could best serve his clients by offering comprehensive financial plans instead of one product. "I wanted them to look to me as their trusted advisor," said Brian. As a result, Brian grew his offerings over the years into the full-service financial advisory firm Advanced Retirement Planning is today.
In 2013, Brian was invited to join the Forum 400, an elite organization comprised of leaders in production and innovation in financial services. Membership is restricted to 400 professionals nationwide. Currently, there are only 280 advisors who meet its rigorous qualifying standards. As an accredited claims agent for the US Veterans Administration, Brian works tirelessly help veterans get the benefits they deserve. Financial Planning Magazine recently recognized Brian in its 2013 Pro Bono Awards for his work with veterans in Georgia.
Georgia Trend Magazine named Brian to its "40 Under 40" list in 2012, a top honor among the state's most successful men and women in business, government, education, nonprofits and the arts.
Volunteering his time as an instructor of Defensive Tactics and Firearms as a Certified Georgia Peace Officer, Brian currently serves with several police and safety organizations dedicated to serving the community. He was formerly the co-host of two popular radio shows: "The Big Picture" broadcast on WGST 640 AM in Atlanta, and "Focus on Your Retirement," broadcast on 920 AM and 103.7 FM in Gainesville, Ga.
Brian and his wife Sasha live in Henry County with their children, Will and Matt. His stepson, Vitaly, is serving in the Marines. He is a member of Southside Christian Fellowship, and believes that compassion and humility are the most valuable qualities a person can possess. Brian enjoys reading and spending time with his family.
Contact us for a complimentary appointment today.